Networks and infrastructures
SIEL-TERRITOIRE D'ÉNERGIE LOIRE PROVIDES LOCAL AUTHORITIES WITH TECHNICAL ASSISTANCE FOR THE ANTICIPATION AND OPTIMISATION OF THEIR DRY UTILITIES
Local authorities responsible for urban planning have to finance the operations to extend the electrical networks when planning permission is granted (housing estates, other new builds, etc.).
For urban municipalities, it is the concession holder that deals with the "electrical network" aspects of planning applications.  It therefore provides the local authority with a technical and financial proposal.
For the rest of the territory, SIEL-Territoire d'énergie Loire can deal with planning applications and evaluate the cost of the extensions and reinforcements that will be financed by the local authority (individual buildings, company sites, housing estates, etc.)
Depending on their SIEL-Territoire d'énergie Loire membership options, local authorities can benefit from technical assistance to get reliable, precise costings, evaluate, anticipate and optimise the installation of dry utilities (electricity, telecoms, fibre optics, street lighting).


SIEL-TERRITOIRE D'ÉNERGIE LOIRE TAKES ACCOUNT OF TELECOMMUNICATIONS INFRASTRUCTURE
Since 1 January 2019, SIEL-Territoire d'énergie Loire has systematically analysed the telecommunications network (free of charge), including necessary extensions, but also individual connections for each planning permission application studied, for all the municipalities in the THD42 area (including urban ones).
This more comprehensive response is a real plus for the local authority, which therefore has an exhaustive picture of its networks and can anticipate, to a non-negligible extent, the connection issues that are likely to arise concerning the telecommunications network, which means it can plan to reduce the impacts on the roads.
Under the EPAT prospective territorial planning study, this service is also offered for a flat-rate charge to the rural municipalities in the AMII zone.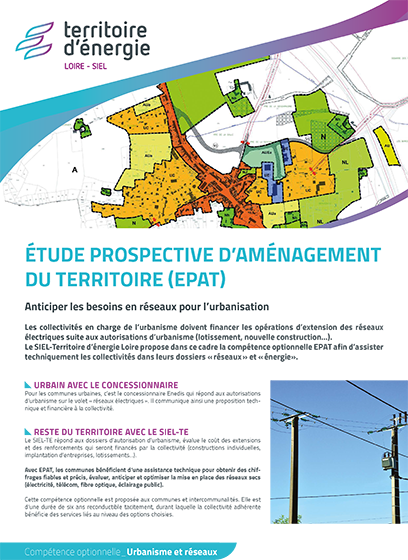 Anticipating network needs for urban planning