FOCUS ON THE ENERGY
PERFORMANCE CONTRACT
The Energy Performance Contract (Contrat de Performance Énergétique, CPE) guarantees energy savings for public buildings over the period of a commitment drawn up between the local authority and the company. It may concern at once the optimisation of systems, thermal renovation and the maintenance of the installations.
SIEL-TERRITOIRE D'ÉNERGIE LOIRE SUPPORTS LOCAL AUTHORITIES IN THE LOIRE TO LIMIT ENERGY CONSUMPTION AND RENOVATE PUBLIC BUILDINGS
THE ENERGY PERFORMANCE OF PUBLIC BUILDINGS
SIEL-Territoire d'énergie Loire's specialists are an essential source of support for local authorities committed to energy saving and the development of renewable energies.
The "SAGE" team (SAGE stands for Energy Management Assistance Service in French) monitors the energy consumption of 2,500 public buildings and makes technical recommendations on energy systems and insulation.  Measuring equipment and special software is used to study consumption and to implement solutions.
SAGE also means:
– the assistance with drawing up specifications for calls for tender
– the conducting of energy performance diagnoses (DPEs).
– the collection of energy savings certificates (CEEs)
– the setting up of maintenance contracts with providers.

THE DEVELOPMENT OF RENEWABLE ENERGIES IN LOIRE
RENEWABLE HEAT PRODUCTION AND DISTRIBUTION
SIEL-Territoire d'énergie Loire acts as the contracting authority for wood energy heating networks, solar thermal equipment and heat recovery systems. SIEL-Territoire d'énergie Loire makes the investment and carries out the maintenance. The local authority provides the land or its infrastructures and reimburses the syndicate for the operation in instalments over 20 years. In the case of large facilities, SIEL-Territoire d'énergie Loire may set up a public service delegation arrangement.
RENEWABLE ELECTRICITY PRODUCTION AND DISTRIBUTION
SIEL-Territoire d'énergie Loire acts as the contracting authority for photovoltaic power stations or micro-hydroelectric equipment. The local authority makes its roof or infrastructure available to SIEL-Territoire d'énergie Loire. The syndicate makes the investment and sells the electricity. Part of the profit is paid in one go to the local authority to finance energy saving works.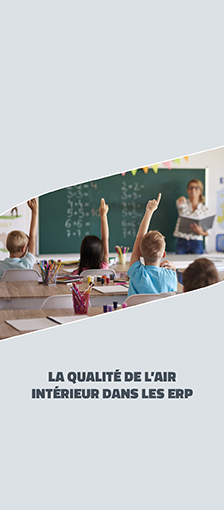 SIEL-TE offers communities of municipalities and municipalities that are members of SAGE support to improve ventilation in public access buildings.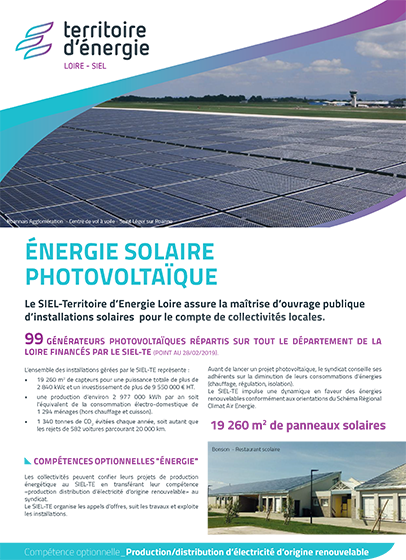 Photovoltaic solar energy and the energy transition. SIEL-TE acts as the public contracting authority for solar power stations on behalf of the local authorities.